SCHOLARSHIP PROJECT FOR POLISH AND UKRAINIAN PARALYMPIANS
CEL:
Together we support Polish Paralympians!
Help
Select the donation amount and help us do good!
If you decide to donate, you will receive a personalized TICKET TO A BETTER LIFE every month as a thank you.
We have just finished our first successful project for Polish Paralympians, and we are already starting a new one! In September 2022 Corinne Klajda will run her next race as a part of 4 DESERTS RUN ultramarathon! Intensive preparations for the race in the Atacama Desert in Chile have already started. We are getting ready together with Corinne and our aim is to collect 375 000 PLN for the next scholarships for EXTRAORDINARY WOMEN. This time we have Paralympians from Poland and Ukraine.
In June 2021, UNAWEZA Foundation took Polish Paralympic athletes under its wings and Martyna Wojciechowska officially became their Ambassador. Together with Corinne Klajda and the Polish Paralympic Committee we launched a fundraising campaign to cover 10 sports scholarships. For this noble cause, Corinne decided to run one of the toughest ultramarathons in the world, the 4 DESERTS RUN. That means running through 4 deserts - a total of one thousand kilometers in extremely difficult conditions.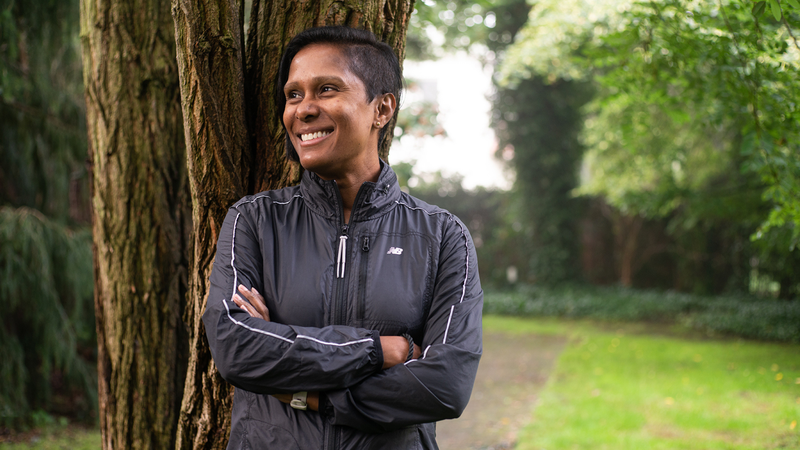 "I want to do something good and support others!" – this is how our conversation with Corinne started when we met for the first time at the Foundation. "I am 53 years old, married, with two adult children, a successful professional career and I want to show that it's possible for women to have even more interesting & meaningful life chapters after 50. " - she added. Corinne was born and raised in Mauritius but has been living in Poland for more than 20 years. She has been working for Accord Group Poland for the past 23 years. Since 2005 she has been the owner of the company, which specializes in Executive Search, & Leadership Consulting.
As a part of the #CORINNE RUNS FOR GOOD initiative in October 2021, she finished the Namib Race in 18th place (the 5th woman in the finish line) and received the award for one of the best results in her age group 50-59. And she did it all for our EXTRAORDINARY WOMEN! As a result, we raised a total of 250 000 PLN for annual scholarships for 10 Paralympic athletes. This would not have been possible without the support of generous donors. Our special thanks go to the companies: De Care; Dr Irena Eris; Millenium Bank; EWL Group; Satipharm; BeBio; OLX Group; Ringier Axel Springer; Aludesign; Podravka; InterRisk.
You can read more about first edition of our scholarship program here:https://www.unaweza.org/en/komu-pomagamy/corinne-runs-for-the-paralympic-athletes/
The first success is behind us, but we do not rest on our laurels!
Our Paralympians are true champions who prove that IMPOSSIBLE DOES NOT EXIST:
- Anna Vladyslavivna Hontar (Ukraine)
- Nataliia Mykolaivna Kobzar (Ukraine)
- Oliwia Jabłońska (Poland)
- Lucyna Kornobis (Poland)
- Faustyna Kotłowska (Poland)
- Kamila Kubas (Poland)
- Renata Śliwińska (Poland)
- Joanna Oleksiuk (Poland)
- Milena Olszewska (Poland)
- Jagoda Kibil (Poland)
This year, due to the war in Ukraine, we also wanted to support talented female athletes from that country. They take part in international sporting events and win medals. They are pushing their limits and training very hard to achieve their goal. Despite all odds, they fight and do their best.
We want to support them every day, so that they don't have to worry about their financial situation and have a chance to make their biggest dreams come true. For them sport means crossing the barriers of body and mind and their stories perfectly illustrate that no one should ever give up in life. No matter what.
That is why we are going one step further and launching another fundraising campaign. Our aim is to collect 375 000 PLN for scholarships for the following year! The next Paralympic Games will be held in Paris in 2024.
We want our Paralympians to have a chance to prepare for it as well as possible.
---
Now we will present all the Paralympians who will be included in the scholarship program:
ANNA VLADYSLAVIVNA HONTAR
She was born on September 9, 2003, in Kherson. Since 2009 she studied at the Kherson Gymnasium №` of the Kherson City Council, to which she graduated in 2020. She is currently a student at the Faculty of Physical Education and Sports at the Petro Mohyla Black Sea National University, majoring in Physical Culture and Sports.
Anna started swimming at the age of five and she has repeatedly won the All-Ukrainian Sports Event " Believe in yourself" in swimming among children with disabilities. Since 2017 she has been a member of the National team of Ukraine in swimming among athletes with locomotor disabilities (she is a daily wheelchair user). Anna has the sports title of Master of Sports of Ukraine of international class. Having cerebral palsy performs in classes S7, SB6, and SM7. These classes involve athletes who move using only their trunks and arms, including those with amputated limbs or cerebral palsy. In 2018, at the age of 14, she made her debut at the European Para Swimming Championships and immediately won the gold, the silver and 2 bronze medals.
Anna made her debut at the XVI Summer Paralympic Games in 2020 and was the youngest participant in the National Paralympic team of Ukraine (she was 17 years old). She fled from the Russian invaders in occupied Kherson, where her home is located.
Sports Discipline: para-swimming
Disability: cerebral palsy
NATALIIA MYKOLAIVNA KOBZAR
Nataliia was born on January 19, 2000, in Kremenchuk, Poltava region. The child with a disability with consequences of right-sided hemiparesis.
She graduated from middle school №3 in Kremenchuk. She started practising athletics at the age of 8 in September 2008 at the Kremenchuk branch of Invasport. In March 2009, she took part in her first athletics competition among children with disabilities in the open regional tournament. Nataliia was the absolute winner of this tournament in the period of 2009-2013. Multiple winner of the athletics competitions of the All-Ukrainian Sports Event for children with disabilities "Believe in yourself" 2011-2013 in the 60m, 100m, and 200m distances.
Since 2017 she has been a member of the National team of Ukraine in athletics among athletes with locomotor disabilities. He has the sports title of Honored Master of Sports of Ukraine. Now she represents the Dnipropetrovsk region and Dnipropetrovsk regional centre "Invasport".
Sports Discipline: para-swimming
Disability: hemiparesis right side
OLIWIA JABŁOŃSKA
Oliwia has a congenital club foot. She got into swimming through rehabilitation in her childhood. Today, she is one of the most successful Polish swimmers - she has won silver and bronze medals in the Paralympic (100 m butterfly style). However, she has changed her main competition for some time - she is the current world champion and a bronze medalist in the 400 m Paralympic Freestyle. She has also won medals at the European Championships and the World Cup. She has achieved all these things, despite her relatively young age.
Motto: Pain is a reward for a job well done
Sports Discipline: para-swimming
Disability: club foot
LUCYNA KORNOBIS
She is called a firecracker woman. Breaking records is her speciality - she is a two-time silver Paralympic medalist in the shot put (Rio de Janeiro 2016, Tokyo 2020). For years, Lucyna was winning usually two roundels at international events (a ball and a javelin). She donates half of her medals to charity. She visits schools very often and conducts PE classes with Paralympians, talks about sport, achieving goals and her difficult path to success, considering that she could not count on her parents.
Motto: As long as you keep fighting, you are the winner
Sports Discipline: para-athletics
Disability: spastic quadriplegia
FAUSTYNA KOTŁOWSKA
Faustyna has been involved in the Paralympic sport for a short time, but she made a storm break to the Paralympics world. After a scooter accident, which resulted in her left leg being amputated above the knee, in 2017, she went to training thanks to her PE teacher. She was already a two-time world junior champion and a silver and bronze medalist of the Senior World Championship two years later. Her speciality is technical competitions: discus throw, javelin throw, and shot put - and it was in them in 2020, that she set world records. The seventh place at the Paralympic Games in 2021 is also an excellent result for a rookie who had to deal with the stress of such a big event - and a good prognosis for the Olympics in Paris, where Faustyna will already be accustomed to the unique atmosphere of the Olympics.
Motto: Future starts today, not tomorrow.
Sports Discipline: para-athletics
Disability: left leg before-the-knee amputation
KAMILA KUBAS
Para-canoeist, bronze medalist of the Summer Paralympic Games in Rio de Janeiro. Kamila is a competitor of the ZSR START Zielona Góra. She represented Poland, in the European and world championships. In 2016, she won a bronze medal at the European Championships in Moscow, and in the same year, she also won a bronze medal in the KL1 category at the Summer Paralympics in Rio de Janeiro. Kamila was 16 when she had an accident. As she admitted, from this moment she treated the wheelchair like a new pair of shoes. Before the accident, she was practising canoeing and was one of the best players in the club. Kamila has a daughter - she dedicated the medal from Rio to her.
Motto: This is what these hills are for me to have better views
Sports Discipline: paracanoe
Disability: spinal cord injury
RENATA ŚLIWIŃSKA
Renata got into the sport atypically. A physical therapist who came to rehabilitate her grandmother saw that Renata was interested in the sport. Finally, she found her way to athletic training. She quickly went to her first international competition - European Championships in Grosetto and won immediately two gold medals there (in the shot put and discus throw). She went to her first Paralympic Games in Rio, where she could compete with the best. Since then, her path has been sparkling with gold and silver - Renata is the Paralympic shot put champion from Tokyo and a two-time world vice-champion in the same competition.
Motto: Hard work means more than just talent
Sports Discipline: para-athletics
Disability: achondroplasia (person of short stature)
JOANNA OLEKSIUK
Although Joanna started with rowing, she changed her discipline to athletics and quickly specialized in the shot put and javelin. Her most important achievements are the European Shot Put Championship (Bydgoszcz 2021), 4th place at the World Championships in Dubai 2019, and 4th place at the Tokyo Paralympic Games. The medal was close and in her case, we can count on a fight for the highest in Paris - the athlete also has an excellent work ethic and incredible cheerfulness and optimism. Joanna is in a wheelchair as a result of quadriplegic cerebral palsy.
Motto: "Be strong, don't be afraid to take action with what you have, don't be afraid to aim higher" Regina Brett
Sports Discipline: para-athletics
Disability: cerebral palsy
MILENA OLSZEWSKA
Her achievements speak for themselves: two-time bronze Paralympic medalist from London and Rio, World Champion (2013) and European Champion (2014, 2016, 2018), and multiple medalists in these events. She is also the winner of the Best Female Athlete of the 20th Anniversary of the Polish Paralympic Committee in archery and the President's of Poland Cup in recognition of outstanding sports achievements in the year of the 100th anniversary of regaining independence. Milena's just getting started - in 2022; she won two World Cup bronze medals (mixed and individually). After the amputation of the right leg, she moves on crutches.
Sports Discipline: para-archery
Disability: right leg above-the-knee amputation
JAGODA KIBIL
A competitor with an incredible character and talent for running. Her first important medals, Jagoda won at the European Championships in Grosseto in 2016, where she stood on the lowest step of the podium both at 100 m and 200 m. In 2018 in Berlin, despite the recommendations of doctors and a sprained ankle, she decided to start at 200 m. She ran, and despite the great pain after a phenomenal finish, she overtook her rivals and won the gold medal. Jagoda is also a silver medalist in the Doha World Championships in 2019 at this distance. In her debut in Tokyo, she finished 4th in 200m and 5th in 100m - this debut, although it can be considered a success, only whetted her appetite for a medal in Paris.
Sports Discipline: para-athletics
Disability: Cerebral Palsy
fot. Ukraiński Komitet Paraolimpijski
fot. Marcin Klaban / Polski Komitet Paraolimpijski
fot. Thiago Diz | TheRacingPlanets
fot. Bartłomiej Zborowski/Polski Komitet Paraolimpijski
fot. Adrian Stykowski/Polski Komitet Paraolimpijski